Pirastro Eudoxa is probably the world's best known violin string and has been a staple of many players over the last 60 years. It is a traditional covered gut string. Nowadays these strings appeal mainly to players who value the unique tonal properties and playing feel of a traditional gut cored string and are prepared to accept the need for more regular tuning and their sensitivity to changes in climatic conditions.
We do not recommend the use of fine tuners with these strings as they require more regular tuning than synthetic or metal cored strings. Aluminium on natural gut. The sheep gut core of Eudoxa strings is manufactured, wound and polished in the traditional way, by hand. Well balanced warm tone with a great diversity of sound. Low string tension and a comfortable left hand feeling ideal for orchestra, chamber music and studio takes.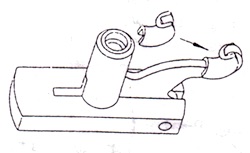 Using a loop end E?
The use of a protector to prevent the tuner hook breaking the string is essential with loop end E strings. We cannot accept claims for strings broken by the adjuster hook.
Click here
to purchase this item.
Please note. These strings do NOT have ball ends and are not designed for use with fine tuners on the tailpiece. These can damage the knot of the string and lead to breaking. Tuning should be confined to the pegs only. Please ensure this product meets your requirements prior to purchase.