Advanced stainless steel. Ametyst strings offer a pure and focused sound which is brighter than Karneol. Although they are intended for better instruments, they will improve the sound of all levels of violins. They have a synthetic core, and normally take approximately three days to achieve tuning stability and optimum tone quality.
To check your instrument size measure the length of the back (LOB) excluding the 'button' which is the thumb shaped extension at the top where the neck is anchored. Old instruments can vary, if more than 1/2" over choose the next size up.
4/4 - LOB 356mm (14")
3/4 - LOB 330mm (13")
1/2 - LOB 305mm (12")
1/4 - LOB 280mm (11")
1/8 - LOB 254mm (10")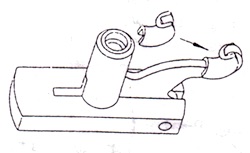 Using a loop end E?
The use of a protector to prevent the tuner hook breaking the string is essential with loop end E strings. We cannot accept claims for strings broken by the adjuster hook.
Click here
to purchase this item.